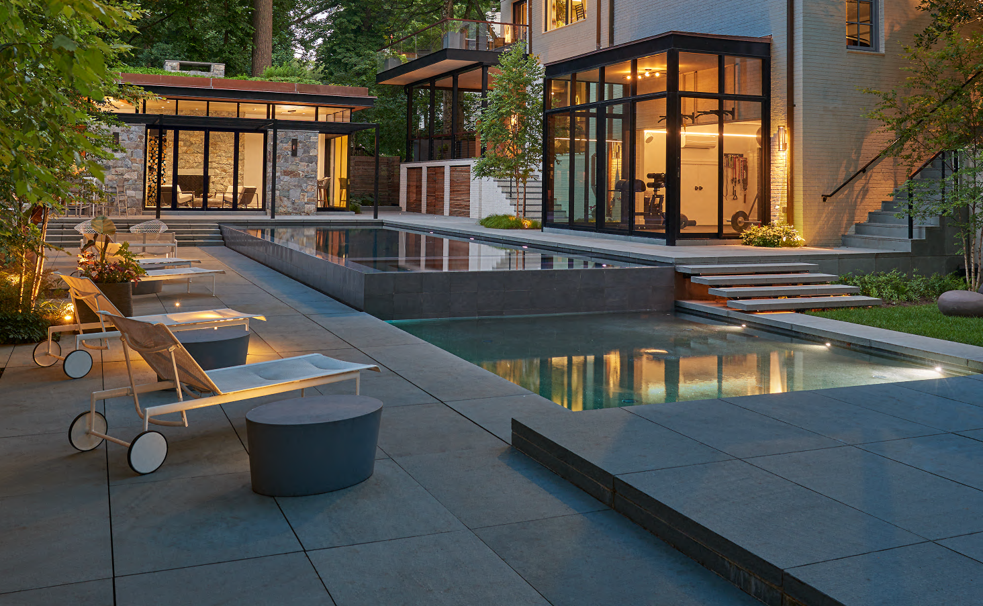 Congratulations to Campion Hruby Landscape Architects on their Merit Award for Residential Design for Chesterfield Place in Washington, DC.
The Chesterfield garden unfolds as a series of modern garden rooms perched on a hillside, collectively descending thirty feet from street level to Broad Branch Creek. Each room serves a distinct functional and aesthetic purpose.
The entry garden provides a simple, uncluttered, modern gateway into the property. One level below, a wine terrace provides a small escape for tasting and small gatherings. Below the basement level, a pool house and pool garden provide a setting for modern outdoor living for busy clients who entertain frequently.
The pool, inspired by the courtyard at the Museum of Modern Art in NYC, extends the width of the garden and draws the eye out to the forest. Tucked into the lower hillside, a forest garden creates a transition between the active garden above and the natural landscape of Rock Creek Park below.
Together, these garden rooms provide the expression of modern urban living that the clients' initially requested, resolve problematic stormwater issues, and create a series of outdoor spaces that respond to both the architecture and the site. In each space, the landscape architects resolved challenging site constraints and gradient issues while maintaining a sense of natural beauty and modern simplicity.