Scroll down for upcoming events.
---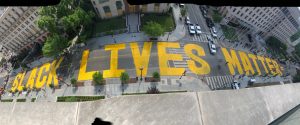 December 3, 3:30-5pm
BLM Plaza and Beyond: Public Space as a Medium for Democracy
Potomac ASLA webinar, 1.5 PDH/HSW pending
In the wake of the tragedy of the George Floyd killing and nationwide protests, the DC Department of Public Works painted the words "Black Lives Matter" in letters 44 feet tall on 16th Street in Washington DC. This landmark project, on axis with the White House and Lafayette Square, sits at the intersection of public art and protest. The Plaza has become a stage for expression, ceremony, and most recently celebration and dissent of the presidential election.
How do projects like this create a stage for our experience of democracy? What role do designers and artists have in the creation of spaces that enable shared community values?
Join us for a fascinating dialogue between one of BLM Plaza's creators and the coordinator for Murals DC, Nancee Lyons, and urban landscape historian and author, Thaisa Way, FASLA.
Registration is free for current Potomac ASLA members and ASLA student members; there is a small fee for others.  Register here.
Thanks to our sponsor: Olson Weaver Lighting Design & Install!
---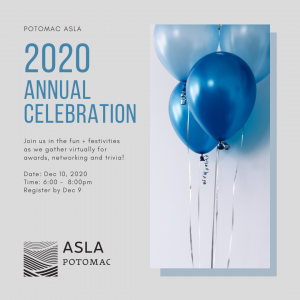 Annual Potomac ASLA Chapter Celebration & Member Recognition

December 10, 6-8pm
You are invited to join us for our virtual Chapter Celebration.  Everyone is welcome, as our guests.  Click here to register.

Special volunteers, invited guests, and new DC licensees will be recognized, as well as our student awardees and our Lifetime Achievement recipient.  We'll also recognize Fellows, as well as all new Potomac Chapter members (from 2019-20).  Our new Chapter officers and Executive Committee members will be installed and our outgoing and former leaders will be thanked.

Even with all these recognitions, we'll have time to play 3 rounds of trivia and network with each other, before and after the official program. Prizes will be awarded to trivia winners.
Click here for the evening's program.
Register here by December 9.
Special thanks to our event's sponsors! Click here to see how you can join as a sponsor.
Gold Sponsor: Anova Furnishings
Bronze Sponsors:
---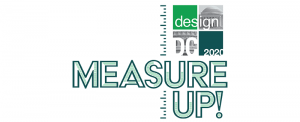 DesignDC is now on demand!

Need some LA CES credits?  You can earn lots of PDHs through these on demand sessions.  If you need to verify which sessions are approved for LA CES credits, email us at info@potomacasla.org.
Learn from experts about climate change, equity, and design.
The cost is $215 for non-AIA members.  However, if you registered for the virtual DesignDC, these on demand sessions are available to you at no additional cost!  Details and registration here.
---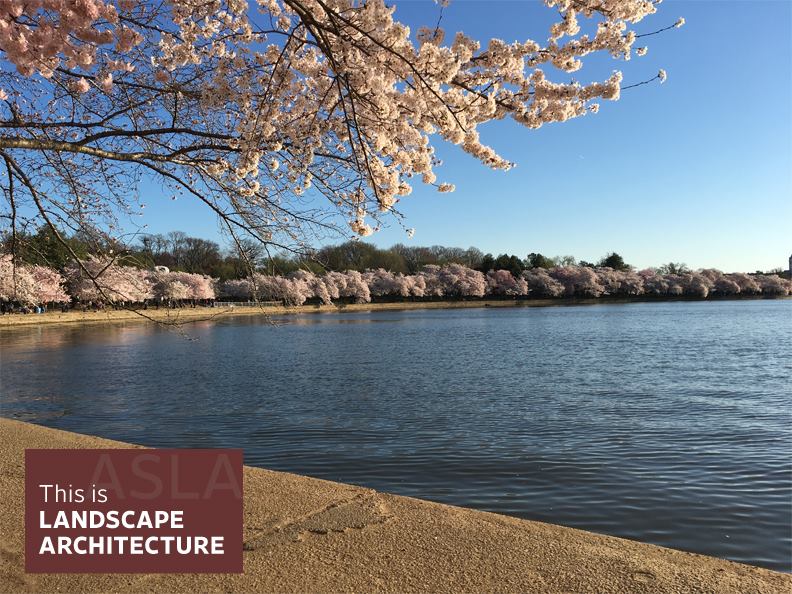 The Tidal Basin Ideas Lab exhibition invites the public to explore the histories and challenges of the Tidal Basin, and – importantly — to share their feedback about the five landscape architecture firms' ideas for the evolution of this important part of America's landscape.
The Tidal Basin Ideas Lab exhibition includes films and digital animations, concise audio/visual presentations of each landscape architect's proposal, interviews with the architects, and digital opportunities for the general public to get involved, as well as photographs from the National Archive documenting the Tidal Basin's histories.
The Ideas Lab online exhibition is designed to add a narrative perspective to the landscape architecture firms' proposals, bringing to life the various histories of the Tidal Basin, both told and untold, since its completion in 1887.