Scroll down for upcoming events.
---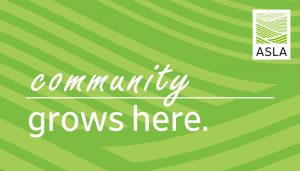 April is World Landscape Architecture Month!
This year World Landscape Architecture Month focuses on the question of "why landscape architecture." Why did you get into the profession? Why is your work important to your community and the world? Why are you inspired to do the work you do? Answering those questions can happen in the safety of your own home, yard, or garden.
ASLA has developed a number of related themes you can use as part of the Life Grows Here campaign.  Some examples: Creativity Grows Here, Hope Grows Here, Tranquility Grows Here, and more.  During this time of COVID-19, Community Grows Here seems especially fitting as we all work together to help each other get through this challenging time.
Below are three ways you can participate in WLAM while respecting the six-foot social distancing rule.
1 – Put Your Phone in Selfie Mode
Set yourself up in selfie mode on your phone and record a brief version of your "why." (Absolutely no longer than a minute!) Be personal. Share your inspiration. Help the world understand what's special about landscape architecture. . . and landscape architects! Post the video on your social media with our hashtags: #LifeGrowsHere, #PotomacASLA, and #WLAM2020. If you can, tag @NationalASLA and @PotomacASLA so we can see and share.
2 – Use Your Laptop Camera
With our changing circumstances, many of us are discovering for the first time how to use our built-in laptop cameras. What you can record on your phone, you can record on your laptop – and still place it on your social media accounts.
3 – Show Off Your Work
Have some photos of your favorite projects saved in your albums? Go to www.asla.org/wlam, download one of our new social media graphics, and overlay it on a picture of your favorite project – then post on your social media. Tell the world what grows in your projects: life, community, diversity, hope, resilience, and more. And remember to use the #LifeGrowsHere and #WLAM2020 hashtags.
April is a great time to enjoy, appreciate, and share the beauty around us.
For more information and more ideas and details, visit www.asla.org/wlam.
---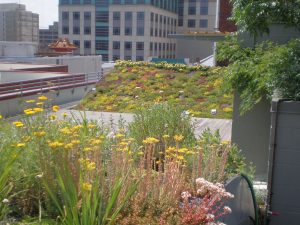 April 16, 12-1pm: Postponed due to CDC recommendation
Presentation & Tour of ASLA Green Roof
Washington, DC
Sponsored by Potomac ASLA
1.0 PDH pending.
Celebrate World Landscape Architecture Month by joining this tour, part of AIA DC's Architecture Month events.  Designed by Gensler and Oehme, van Sweden | OvS, the ASLA Center for Landscape Architecture integrates landscape architecture throughout the building, from its green roof to its courtyard, as well as exterior green walls.
Details and registration here. 
---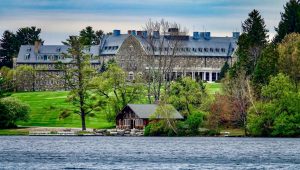 April 17-18  Rescheduled for November 20-21
PA-DE ASLA Conference & LARE Review
Skytop Lodge, PA
Join practicing landscape architects from Pennsylvania, Delaware, and surrounding states for a timely and forward-thinking continuing education event at "the grandest family resort in the Poconos." A member of the National Trust Historic Hotels of America, Skytop Lodge boasts a rich and storied history. DID YOU KNOW? The Olmsted Brothers created Skytop's original site plan and gardens?
13.0 PDHs.
Details and registration here.
---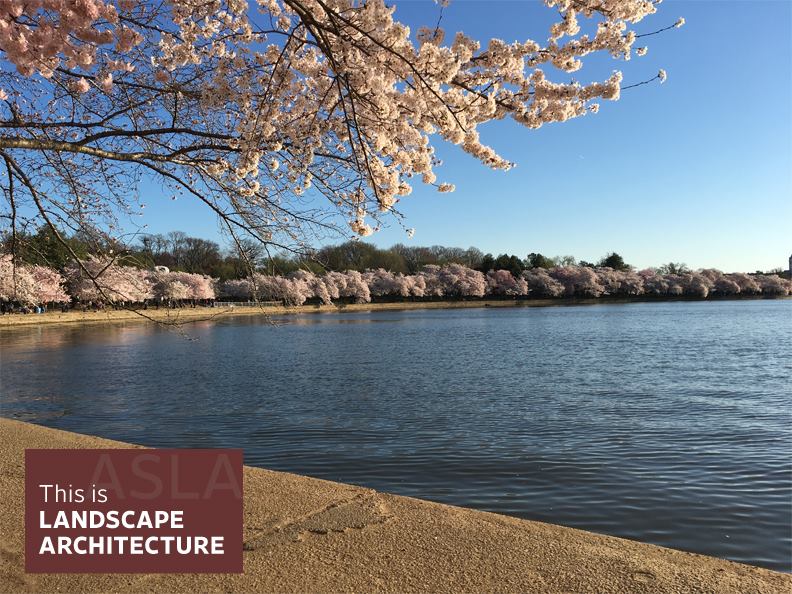 The National Mall Tidal Basin, a cherished part of "America's Front Yard," links its historic assets to the American ideal they collectively represent: freedom, democracy, and international cooperation. This complex cultural landscape features memorials to Thomas Jefferson, Martin Luther King, Jr., and Franklin Delano Roosevelt, as well as famous cherry trees that blossom each spring.
But this American icon is under threat.
Due to rising sea levels, the silt and water of the Potomac Flats make the Tidal Basin unstable; the conditions they create compromise both historic resources and visitors' experiences. Each day at high tide, water floods the sidewalks surrounding the Tidal Basin, making them impassable and compromising the roots of the cherry trees.
Click here to learn more and sign the pledge.