Scroll down for upcoming events.
---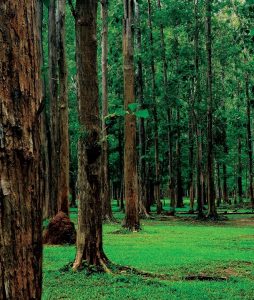 All About Teak Wood webinar
April 13, 11:30am-12:30pm
1.0 PDH
Sponsored by Country Casual Teak
When it comes to outdoor furniture, teak wood is often hailed as the best of the best. Learn all about this hard, tropical wood including its natural properties, benefits and how it came to be used in manufacturing. We'll also take an extensive look at the Teak Silviculture including how teak is grown and harvested, along with the sustainability practices of the industry. Lastly, we will discuss what you need to know when selecting teak outdoor furnishings and how to care and maintain them. We will end by sharing some projects and why they used teak for their furnishings.
Click here to register.
---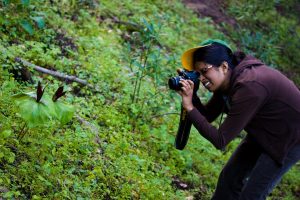 You Can Be a Citizen Scientist: An Intro to the 2021 City Nature Challenge
April 14, 7-8pm
Capital Nature webinar
Join us for this introductory session on the City Nature Challenge and how to get involved. We'll cover Challenge basics, use of the iNaturalist app as a citizen science activity, and places to explore in the DMV.  If you have an interest in learning more about local plants and animals, have access to a camera/cell phone (and the Internet), you can contribute to this exciting project. We'll be using the iNaturalist app platform to document observations. The City Nature Challenge offers a great way to connect to the great outdoors and put the Washington DC area's amazing nature on the map. You can participate individually or with family and safely distanced friends.  Attending this webinar will prepare you to participate in the City Nature Challenge, which starts on April 30.
Register here.
---

Expanding Elasticity in the Landscape webinar
April 15, 2-3pm
1.0 PDH/HSW
Sponsored by Victor Stanley
A lot has changed over the past year and public landscapes are increasingly recognized for their role in ecological resilience, social justice, mental well-being, physical health, and economic stability. Designing spaces that grow and adapt is a hallmark of landscape architecture, but designing them to be truly elastic is what makes them timeless.
Instructor: Greg Miller, Principal Landscape Architect – MRWM Landscape Architects.
---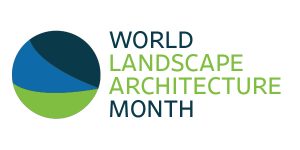 Growing Together
April 1-30
For the Growing Together campaign, ASLA is building an interactive map of landscape architecture projects.
You can see an example here.
ASLA is especially interested in highlighting projects in traditionally underserved communities, as well as projects with high community impacts.
Use this form to submit your ideas for projects to highlight.
These can be anything – schoolyards, green streets, parks, green roofs, backyards, greenways, bike trails – any space a landscape architect has a hand in designing, planning, maintaining, or even advocating for the completion of the space.
You can find more information, resources, and logos here.
Take advantage of this opportunity to showcase some of your projects and those in your area, while promoting landscape architecture!
---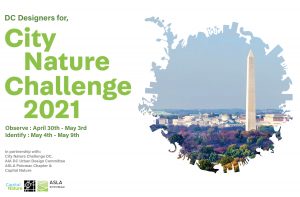 City Nature Challenge
April 30-May 3: Take photos
May 4-9: Identify your photos
This is a great time to observe nature. And a great time to participate in citizen science! For the past year, the city has been our backyard, as we spent more time outdoors. You can use that outdoor time to help scientists collect data on the plants and animals of our region. We'll be looking for signs of life in area parks, neighborhoods, and backyards. Joining the City Nature Challenge is easy (and fun)! Anyone with a cellphone camera and access to the free iNaturalist app can participate. By taking part you'll help scientists collect valuable data on urban biodiversity (regionally and around the planet), and help the Washington DC metro area win!
Potomac ASLA is joining AIA DC's Urban Design Committee and Capital Nature to showcase the wildlife in the DMV!  Click here for details.  Click here for more information on the iNaturalist app and scroll down the page to download it.
---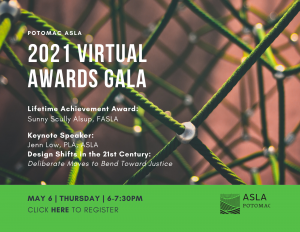 Potomac ASLA Virtual Awards Gala
May 6, 6-7:30pm
Our community of landscape architects will recognize projects with professional awards and celebrate this year's lifetime achievement award.  The virtual event is FREE for everyone.  Please invite your friends, clients, and colleagues.
This year the winners will be announced in advance – but not their winning category or level of award.  Register now so you'll be in the audience as the winners are announced.
Keynote Speech by Jenn Low, PLA, ASLA, Communications Director at the Urban Studio and Deputy Director of the 1882 Foundation.  Keynote topic: Design Shifts in the 21st Century: Deliberate Moves to Bend Toward Justice

Jenn Low
 is the Communications Director at the 
Urban Studio
 and Deputy Director of the 
1882 Foundation
 where she leads a collection of place-keeping initiatives in D.C.'s Chinatown, including the
Dear Chinatown, DC Mapping Project
. With thirteen years of experience as a landscape architect and her recent studies as an
integrative designer
, Jenn works at the intersection of participatory design and public history, and her work seeks to redistribute power in our design processes to advance our work toward spatial justice. Jenn is also a core organizer with 
Dark Matter University
, a collective of design educators working toward an anti-racist model of design education and practice.
Lifetime Achievement Award to be Presented to Sunny Scully Alsup, FASLA
A graduate of the University of Wisconsin's Landscape Architecture program in 1975, Sunny's first job was with the Madison city planning office, but she soon moved east to Washington, DC, where she remains.  Her background in prairie restoration made her a natural fit as the first employee at Oehme Van Sweden.  Being interested in larger scale work, she then partnered in 1985 with Bob Mortensen, FASLA and Mark Lewis to found the firm now known as LSG.  Through those 25 years of building the firm, her practice generally centered on commercial, campus, and urban design projects.  There was always the interest in collaborative efforts with others, especially artists.
Read Sunny's full bio and more details about Jenn's speech here.
Special thanks to our Gala Sponsors: Country Casual Teak,  Landscape Forms, Vectorworks, and Victor Stanley, Inc.
Click here to register.  Register by May 5 to be sure to receive the Zoom connection instructions.
---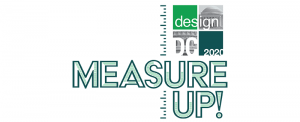 DesignDC is now on demand!

Need some LA CES credits?  You can earn lots of PDHs through these on demand sessions.  If you need to verify which sessions are approved for LA CES credits, email us at info@potomacasla.org.
Learn from experts about climate change, equity, and design.
The cost is $215 for non-AIA members.  However, if you registered for the virtual DesignDC, these on demand sessions are available to you at no additional cost!  Details and registration here.
---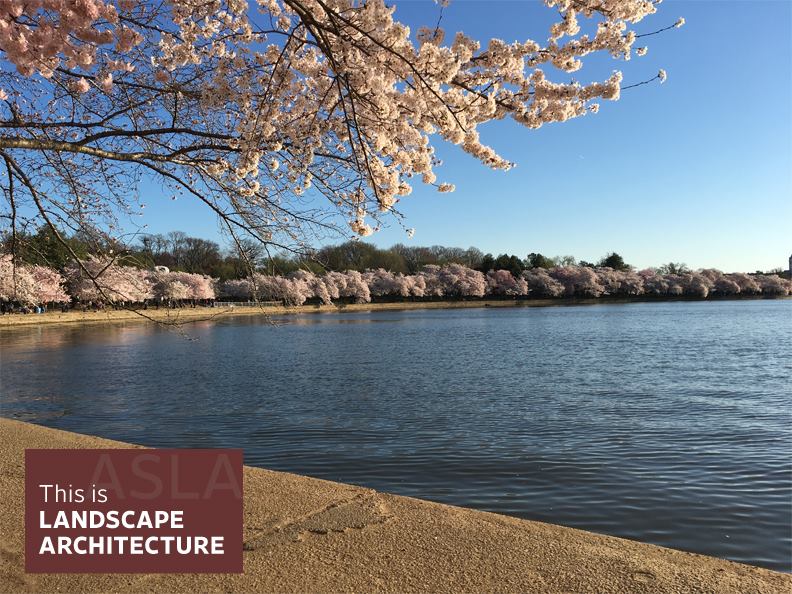 The Tidal Basin Ideas Lab exhibition invites the public to explore the histories and challenges of the Tidal Basin, and – importantly — to share their feedback about the five landscape architecture firms' ideas for the evolution of this important part of America's landscape.
The Tidal Basin Ideas Lab exhibition includes films and digital animations, concise audio/visual presentations of each landscape architect's proposal, interviews with the architects, and digital opportunities for the general public to get involved, as well as photographs from the National Archive documenting the Tidal Basin's histories.
The Ideas Lab online exhibition is designed to add a narrative perspective to the landscape architecture firms' proposals, bringing to life the various histories of the Tidal Basin, both told and untold, since its completion in 1887.