Scroll down for upcoming events.

September 28, 11:30am-1pm
Tour of DC Water's Blue Plains Advanced Wastewater Treatment facility
1.0 PDH/HSW approved
In this hands-on session, participants will tour DC Water's Blue Plains Advanced Wastewater Treatment facility, the largest such facility in the world. Participants will learn about the science and technology powering the plant, and learn about the renewable energy, fertilizer and other benefits derived from the process and how it works to protect the Chesapeake Bay and reduce the facility's carbon footprint. Participants will learn about the benefits of biosolids in landscaping to enrich and revitalize poor soil.
Lunch will be served in the Visitor Center, before the tour.
As a special member benefit, the event is free to current Potomac and Student ASLA members.  Thanks to our sponsor: Bloom.
Register here.
---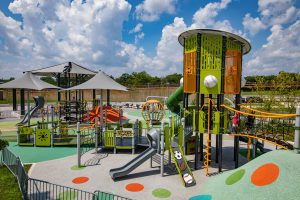 October 5, 9:30am-2:30pm
Play Tour: Trends in Playground Design

3.5 PDH/HSW approved
Join Potomac ASLA for a tour of playgrounds to see first hand some of the current trends in playground design that are attracting children and families, engaging them in play, and encouraging them to stay. Two of the three projects on the tour have won Potomac Chapter awards: Jennie Dean Park in Arlington, this year's President's Award winner, and the Fields at RFK, a 2022 Merit Award winner by Hord Coplan Macht.  You'll also tour the Parks at Walter Reed Playground.

As a member benefit, current Potomac, Virginia, and Student ASLA members pay the lowest price.  Thanks to our sponsor: Sparks at Play!

Click here to see the itinerary and to register!
---

October 12, 12:30-1:30pm
Designed to Protect webinar

1.0 PDH/HSW
Our newest CEU takes the mystery out of selecting security bollards designed to protect as intended and look good while doing it.
Site security is a major concern in today's unpredictable world. Public spaces and facilities are susceptible to accidental as well as deliberate vehicle infringement. Although design professionals must now be increasingly sensitive to site safety and security, these requirements also provide opportunities enhance the design and functionality of a space.
This course covers the essentials of selecting security bollards that provide adequate protection while adding exceptional aesthetic value to a project. This course first examines the needs of a modern outdoor environment and how an assessment can be completed to evaluate a project's security needs. Next, the course will cover common testing standards as well as the necessary foundation engineering options required to meet those standards. Finally, the course highlights lighting and material options that can be selected to integrate seamlessly into the design of a landscape.  Free registration here.
Thanks to our sponsor: Forms+Surfaces!
---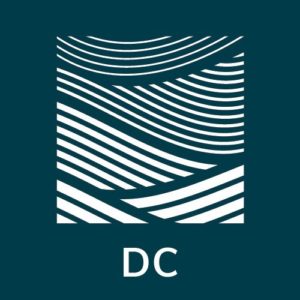 October 18, 5:30-7:30pm
LARE Prep Webinar
Join Potomac ASLA members and friends for this interactive workshop. Current Potomac Chapter and ASLA Student Members receive free registration, as a member benefit!
Prepare for Construction Documentation and Administration and Inventory, Analysis and Project Management (formerly Sections 1 and 2) of the LARE. This session of the exam will be the launch of CLARB's new Blueprint and there will be new topics and features to prepare for, including interactive graphic questions and updated content that has been moved out of Section 4.
Special thanks to our webinar sponsor: Madrax and Thomas Steele!
Register here.
---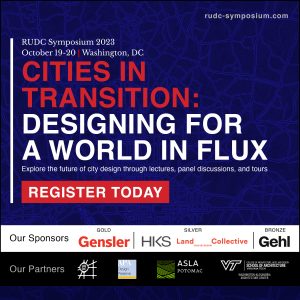 October 19-20
LA CES pending.
Join us for an in-person two-day Symposium on October 19 and 20 in Washington, DC. We will delve into emerging trends, theories, and technologies that are shaping the future of regional and urban design.  Potomac ASLA is a partner organization.
Day 1: Convening in Washington, DC, the symposium's first day will explore the future of city design through various fast-paced presentations and panel discussions.
Day 2: The conversation will continue the symposium's second day with a series of on-site project tours and workshops throughout the Washington, DC region.
We welcome all urban designers and thinkers, no matter your discipline or geography, to join us for this engaging and stimulating discussion. Prominent urbanists and urban designers from around the country will convene in the nation's capital to explore and discover our "Cities in Transition: Designing for a World in Flux."
Sponsors and Partners: This event is sponsored by the AIA Regional and Urban Design Committee (RUDC). Thanks to our sponsors, Gensler, HKS, Land Collective, and Gehl, and to our Partners AIA UD|DC, APA Design and Preservation Division, ASLA Potomac, and Washington-Alexandria Architecture Center at Virginia Tech.
Complete information and registration is here.

---
The Tidal Basin Ideas Lab exhibition invites the public to explore the histories and challenges of the Tidal Basin, and – importantly — to share their feedback about the five landscape architecture firms' ideas for the evolution of this important part of America's landscape.
The Tidal Basin Ideas Lab exhibition includes films and digital animations, concise audio/visual presentations of each landscape architect's proposal, interviews with the architects, and digital opportunities for the general public to get involved, as well as photographs from the National Archive documenting the Tidal Basin's histories.  Click this link to two new informational booklets that capture results of the Tidal Basin Ideas Lab.
The Ideas Lab online exhibition is designed to add a narrative perspective to the landscape architecture firms' proposals, bringing to life the various histories of the Tidal Basin, both told and untold, since its completion in 1887.