At its annual Awards Gala on May 18, the Potomac Chapter of the American Society of Landscape Architects recognized 15 projects with professional awards.  In addition, Lauren Habenicht Arledge, a Virginia Tech student at the Washington-Alexandria Architecture Center, and Jennifer Ren, an MLA student at the University of Maryland were presented with Edward B. Ballard Scholarships.  Finally, Beatriz Coffin, FASLA, and Laurence Coffin, FASLA were celebrated with the Chapter's Lifetime Achievement Award.
The top professional award – the President's Award – was presented to CallisonRTKL/Arcadis for Blue Current DC, in the Unbuilt Design Category.

Monica Streeper (center) and Agustina Solar (left) accepted the award and are pictured here with Potomac Chapter President-Elect Steve Cook, ASLA (right).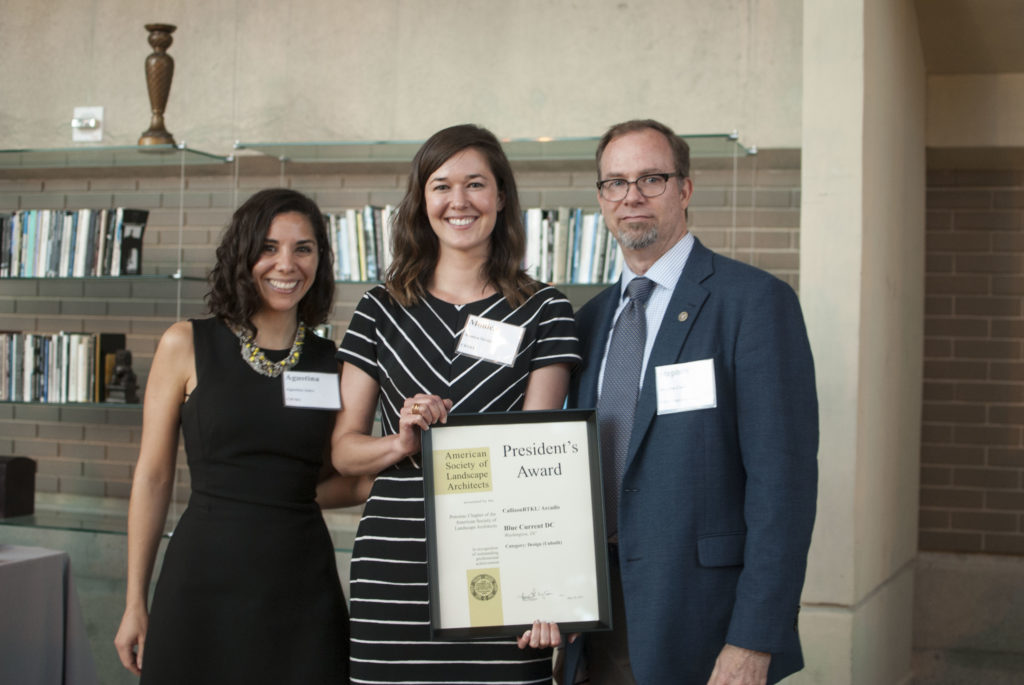 The following awards were also announced:
Honor Award for Social Impact
Project: East Capitol Urban Farm
Firm: Bradley Site Design, Inc.

Honor Awards for Built Design
Project: Atlantic Plumbing
Firm: Future Green Studio

Project: Salamander Resort and Spa
Firm: OCULUS

Honor Awards for Analysis & Planning
Project: Design for Resilience in Brattleboro's Lower Whetstone Brook Corridor
Firm: ParkerRodriguez, Inc.

Project: Gallaudet University
Firm: Future Green Studio

Merit Award for Unbuilt Design
Project: Displaced Ecosystems Uplifted
Firm: Landscape Architecture Bureau

Merit Awards for Built Design
Project: TCS: Tata Consultancy Services
Firm: LSG Landscape Architecture

Project: Rocky Run Park
Firm: GORDON

Project: UDC Student Center
Firm: Lee and Associates, Inc.

Project: 1775 Tysons Boulevard
Firm: Towers Golde, LLC

Project: Newark Street Retreat
Firm: Campion Hruby Landscape Architects

Project: 1200 Seventeenth Street
Firm: ZGF Architects

Project: McHenry Row II
Firm: Hord Coplan Macht

Merit Award for Social Impact
Project: Q Street Green Alley
Firm: Rhodeside & Harwell

These award-winning projects will be on exhibition at the District Architecture Center, June 27-August 25.