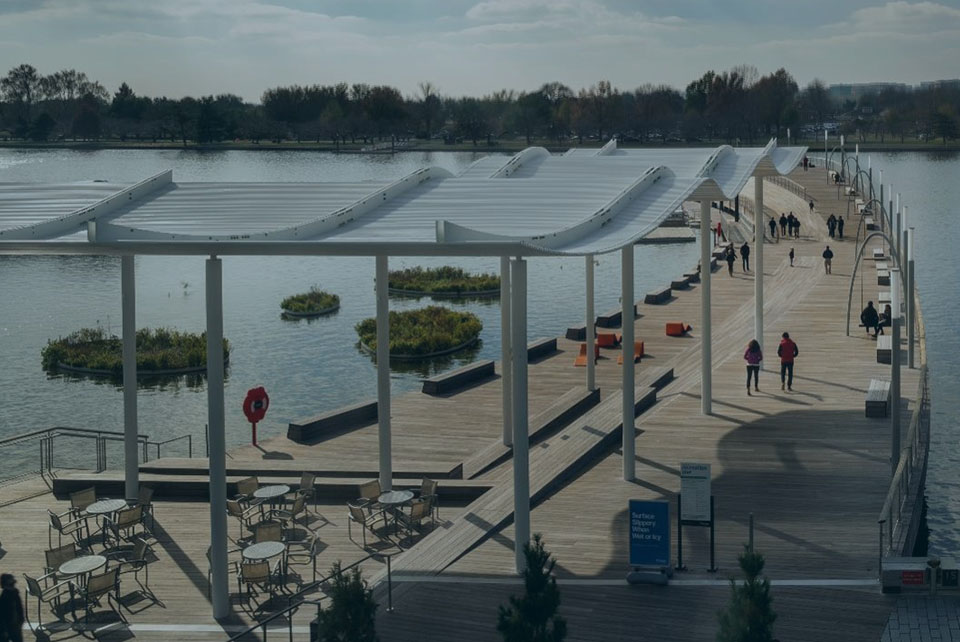 One Honor Award in the Design – built category goes to Michael Vergason Landscape Architects for the Wharf's 7th Street Park and Recreation Pier.
Community interaction with water can feel surprisingly limited in DC, despite its setting along the confluence of two rivers. The opportunity to reconnect people with this resource is realized by The 7th Street Park and Recreation Pier, which draws visitors to the Washington Channel.
Pedestrians enjoy the walking paths that lead to a playful, interactive fountain. Some go on to rent kayaks and paddleboards right off the Pier. Others relax beneath its sweeping shade structure or on a two-seater swing looking out over floating islands that filter suspended sediment in the water.
7th Street Park and Recreation Pier invites everyone to take part in an accessible experience that follows the rhythmic rise and fall of a rolling tide. Its popularity in all weather and seasons is a living demonstration of the dialogues between people, land, and water.
The jury commented that "The design accomplished thoughtful ways to make curves and angles work together to link the city and the river."