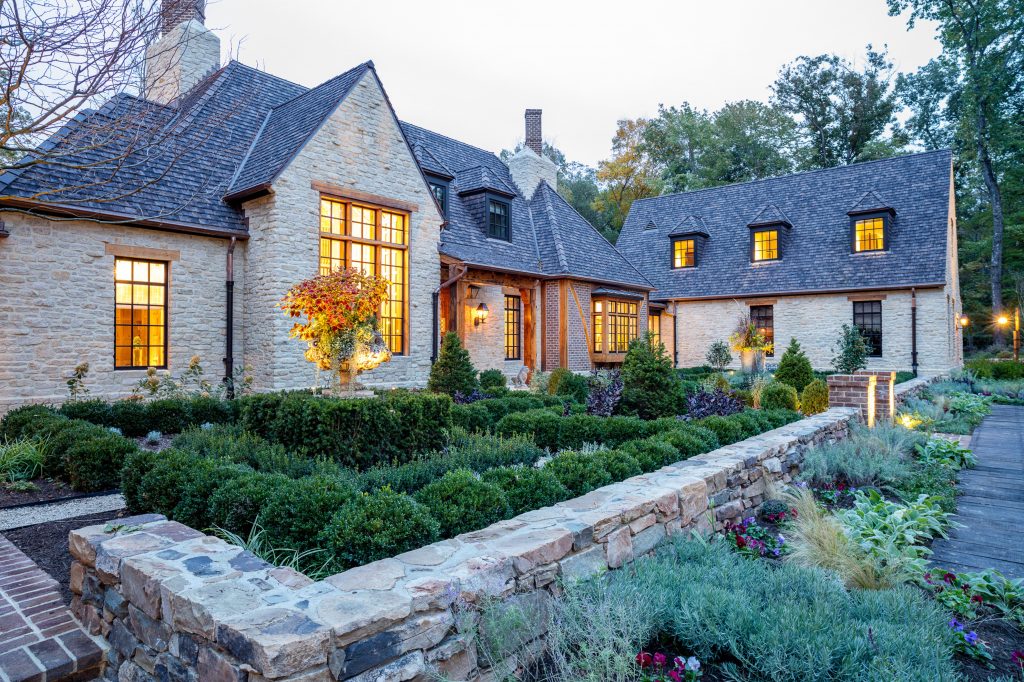 Congratulations to Campion Hruby Landscape Architects on their Merit award in the Residential Design category for Accotink Creek in Fairfax, Virginia.
The design team transformed a collection of properties in Northern Virginia into an 8-acre pastoral estate, stylistically rooted in the bucolic English Cotswold tradition. This estate is designed to sit in a mature landscape which, like the house, gives the impression of a history and a permanence.
The landscape architect focused on gently locating the house and gardens within the heavily wooded site. The house evolved as an unbundled collection of five stone cottages, having separate functions and joined by steel-framed glass hallways. Four courtyard gardens emerged from this relationship of buildings and led to axial gardens that reach beyond the walls to the vast wooded site beyond.
Blending historical context with modern conservation practice, stormwater management was incorporated into the garden design and made evident in the form of a dry stream and step pools before being released into the adjacent public conservation land.
The landscape architect was challenged with creating a seemingly old collection of garden spaces using modern building techniques, evident in the walls, paving, fountains, and antique elements imported from England. Buildings and landscapes are inextricably tied, creating an environment for timeless, magical living.
The planting scheme and connections from garden to garden complement the house and create moments within the surrounding landscape. The jurors conclude that, with this beautiful project, the buildings and gardens look like they have existed in the landscape for a long time.