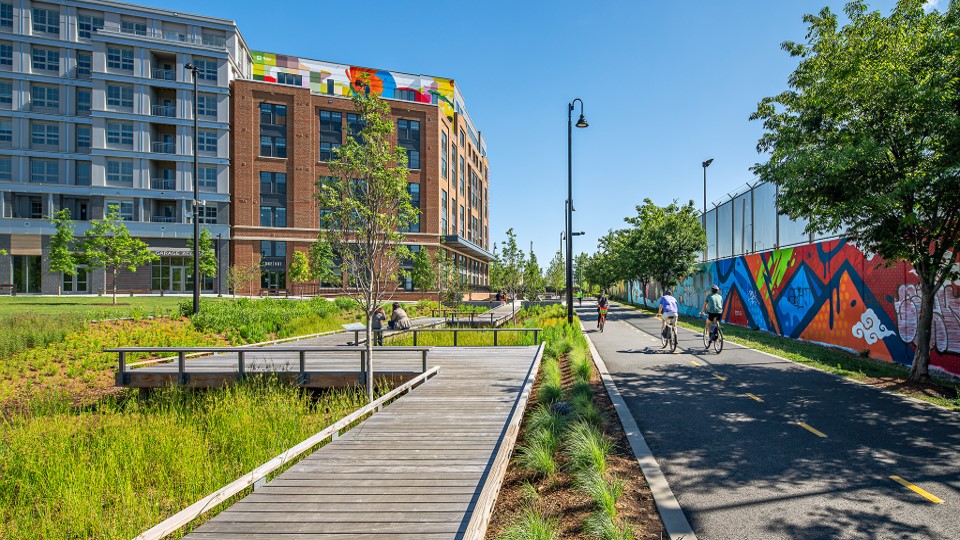 Congratulations to Nelson Byrd Woltz Landscape Architects on their Honor award in the Design-Built category for Alethia Tanner Park in Washington, DC.
After acquiring a two-acre parcel of formerly industrial land, the non-profit NoMa Parks Foundation selected the Landscape Architect from a design competition to re-imagine the site as a green commons. The project furthers the organization's mission to address the lack of accessible park spaces in the NoMa neighborhood of Washington DC. The design team engaged surrounding communities to identify key needs and aspirations for the park space. After a dynamic community-led naming process, the decision was made to dedicate the park to Alethia Tanner, a leader in the Black community in the early 1800s.

Due to its former industrial use, remediation of site soils was necessary and provided an opportunity to educate visitors on strategies for responsibly addressing contaminants in the soil, such as phytoremediation. The design centers on universal accessibility, community building, and joy creation. The park includes a large lawn with a permanent screen armature to accommodate summer movie series, boardwalks, movable seating, benches, and picnic tables. It also includes a variety of plantings, a modern children's playground, a wall for art installations, a café, and dog park. The design amplifies the location's dynamic centrality through a vibrant community landscape while incorporating recreational spaces, amenities, and seamless connections.
The jurors were impressed at how the park maximizes diverse uses of space that brings together many different types of people. Improving residents' lives in an urban neighborhood that historically suffered from a green space deficit, Alethia Tanner Park exemplifies simple, elegant, and transformational change.