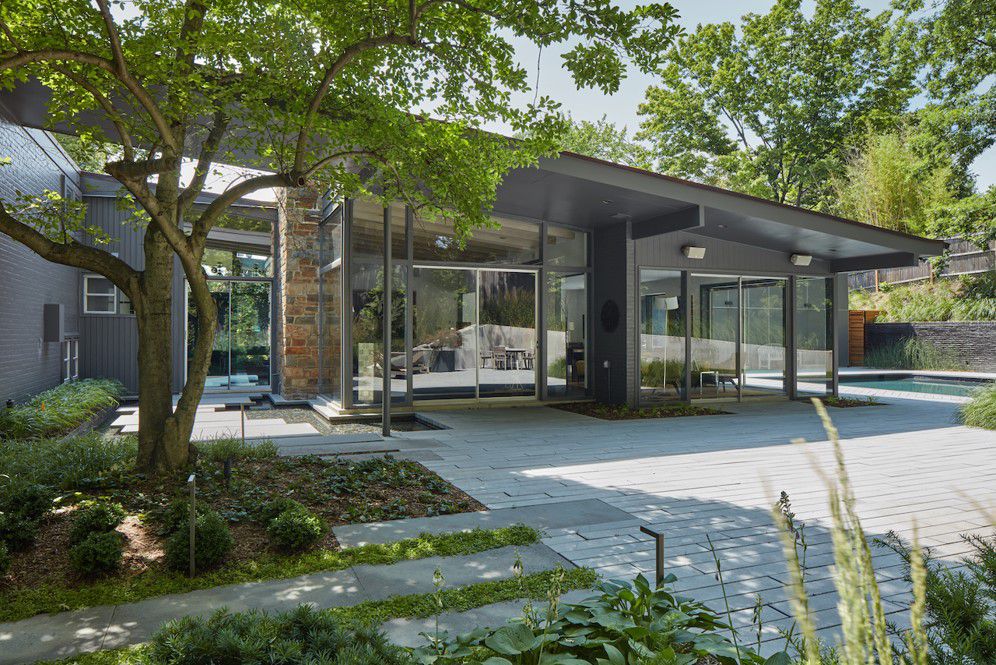 Congratulations to Campion Hruby Landscape Architects for Forest Hills Retreat and their Merit award in the Design – Built category.
Forest Hills Retreat is a charming mid-century house nestled into a quiet DC neighborhood. The owners requested garden improvements that would provide functionality, drama, and ambience. They desired a front garden that excluded vehicles, and a pool garden that enhanced entertainment value while resolving stormwater issues.
The landscape architects sought to create a consistent and perceptible mid-century cohesiveness between home and garden. The asphalt driveway was converted into an inviting arrival garden. A new pedestrian axis of large-format stones runs through the center of the house, across a shallow water feature, and into the rear garden. The existing pool was restored, and the concrete pool deck replaced with pervious pavers to manage storm water.
Using modern materials and methods, the gardens now warmly embrace the mid-century vibe of the house. Recent visitors have expressed a curiosity of whether the gardens were original to the house, thus fulfilling the intended objective of blurring the lines between old and new.
The jury comments that "The sensitive design that extends the mid-century modern character of the house into the surrounding landscape is well done and provides a splendid setting for the home."