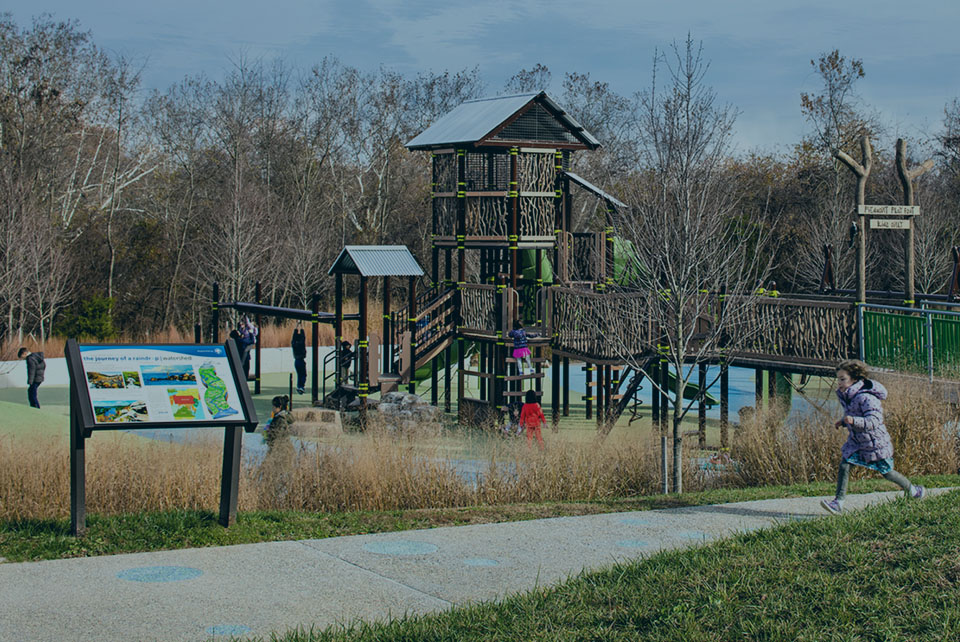 Congratulations to Hord Coplan Macht with M-NCPPC for Greenbriar Park and winning a Merit award in the Design – Built category.
Greenbriar Park is a 25-acre park located in Montgomery County, featuring trails, interpretive play, sport fields and meadows. The landscape architects led a multidisciplinary team through a collaborative process beginning with a sustainable sites initiative evaluation, through design development, construction documents and construction administration.
Creating a rustic park befitting the character of the surrounding rural area was a guiding principal. At its heart is a custom designed play area, highlighting the "Journey of a Raindrop" interpreting how water moves through our watershed to the Chesapeake Bay.  Site features were sensitively located by creatively manipulating topography, integrating innovative stormwater management, and capitalizing on natural views.
Since its Fall 2016 opening, the park has become a popular community gathering space providing opportunities for play, education, exercise and relaxation in a natural and rustic setting.
The jury comments that this is "A lovely co-mingling of nature & recreation" and that the project "helps change people's perceptions of recreation park aesthetics."