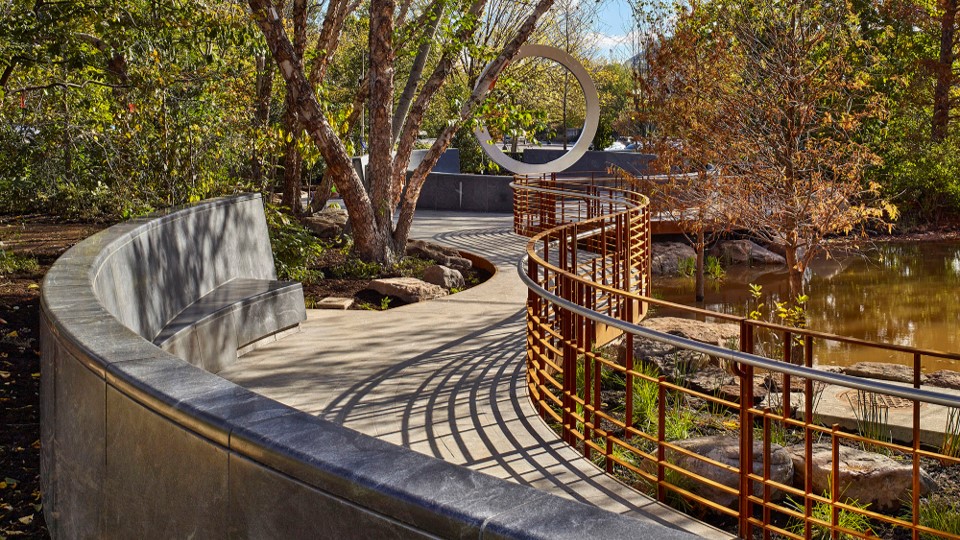 Rhodeside Harwell received a Merit Award in the Design-Built category for the National Native American Veterans Memorial in Washington, DC.  
The Memorial is set on the grounds of the National Museum of the American Indian in Washington, D.C., The memorial was designed with accessibility and inclusion in mind, honoring traditions from a broad array of native cultures, including American Indian, Native Hawaiian, and Alaska Native veterans.
The approach walk leads to the Warriors' Circle of Honor,  a 12-foot-tall stainless steel circle set atop a carved stone drum with a gently flowing pool of water.
The design features several motifs.  Battle streamers on hand-crafted lances reflect sacred colors, and Eagle feathers honor heroic battlefield deeds. Stone paving along the accessible approach walk echoes the patterning of the original Museum's paving. The winding guardrail's radiating pattern is reminiscent of a drumbeat.
Visitors to the memorial are embraced by nature, with native hardwoods, constructed wetlands, and a view of the U.S. Capitol.
Jurors Felt the power of this impressive site.  They appreciated the native and natural materials used in the project, and applauded the thoughtful detailing and rich symbolism used throughout the site.