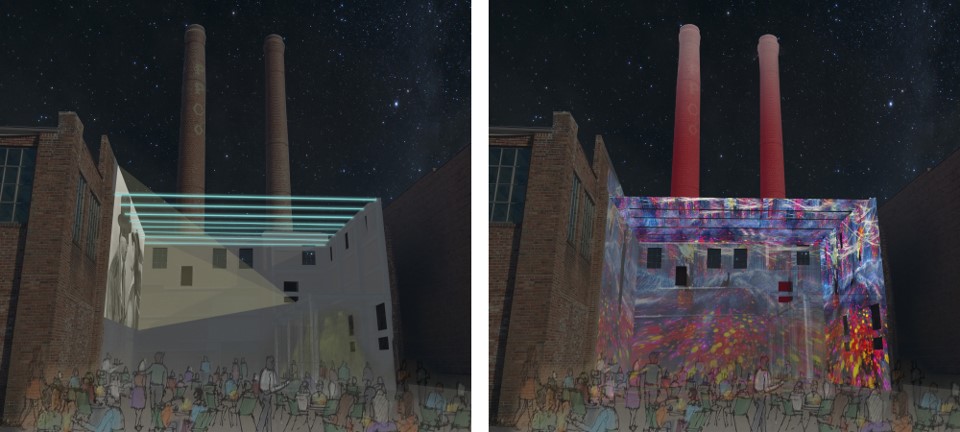 Congratulations to carmichael associates llc on their Merit award in the Design-Unbuilt category for Packing House Courtyard in Cambridge, Maryland.
The Packing House is a historic cannery in Cambridge, Maryland, that was one of the largest in America, providing rations for military campaigns and expeditions. The landscape architects were charged with creating a space that provides continuity to a future adjoining park and that supports the new building functions: culinary institute, restaurant, bar, and digital media school.
The landscape architect approached the opportunity with a plan that brings to the outside the uses of the inside. The client had a modest budget, so the landscape architect needed to create a courtyard with maximum impact using minimal resources.
The courtyard is designed to support artistic performances, cooking demonstrations, weddings, and private events while highlighting the historic architecture and industrial smokestacks. The ground plane will have bold geometric patterns to reflect the architecture, with an elevated seating terrace. The courtyard walls will be painted white to strikingly define the space and allow for digital projections. A retractable fabric roof will provide shade and a fiber optic light canopy complete a dramatic ceiling. The smokestacks will be illuminated by sustainable LED lights. These pioneering materials create a space that is a fusion of 21st century technology overlaid atop 19th century architecture.
Many design details link the courtyard to the site's history, including seating structures inspired by Packing House tomato boxes, and highlighting the site's iconic smokestacks. The jury applauded the landscape architect's creation of a space with flexible uses, helping the client see new possibilities for a tightly-bounded site.