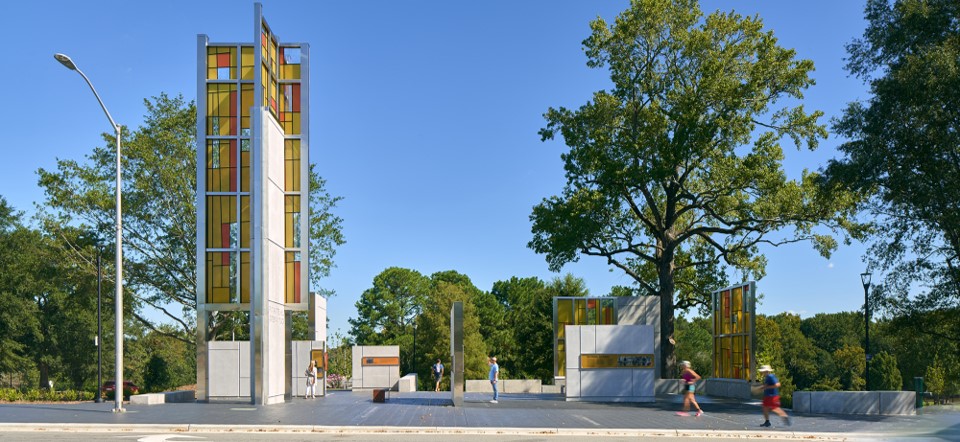 Congratulations to Rhodeside Harwell for their Honor Award in the Design-Built category for Sycamore Hill Gateway Plaza in Greenville, North Carolina.  
The Gateway Plaza is the rebirth of a local landmark to redress the leveling of a historically black neighborhood in central Greenville.  The design creates a place for healing and celebratory remembrance.
Residents still recall the spirit and vitality of the predominately African American neighborhood which was eradicated because of the City's Urban Renewal project in the 1960s. A modest granite monument was once the only visual reminder of Sycamore Hill Baptist Church and the 'Downtown' community once located at Town Common.
Over 11 months, the team led stakeholder focus groups, open houses, roundtable discussions, and community presentations to listen and to interpret residents' visions and concerns.  musical rhythm and structure generate the plan's geometry, expressing the importance of music to the church congregation.
The design process uncovered generational scars and community rifts resulting from Urban Renewal. As the design team discovered, there was a significant opportunity to tell the story of 'Downtown' while bringing equitable, contemporary programming to the sacred space.
The jury lauded the project's great journey and destination as an artfully composed, distinctive landmark.  They praised the transformation of the space and how it offers new opportunity to celebrate the community.