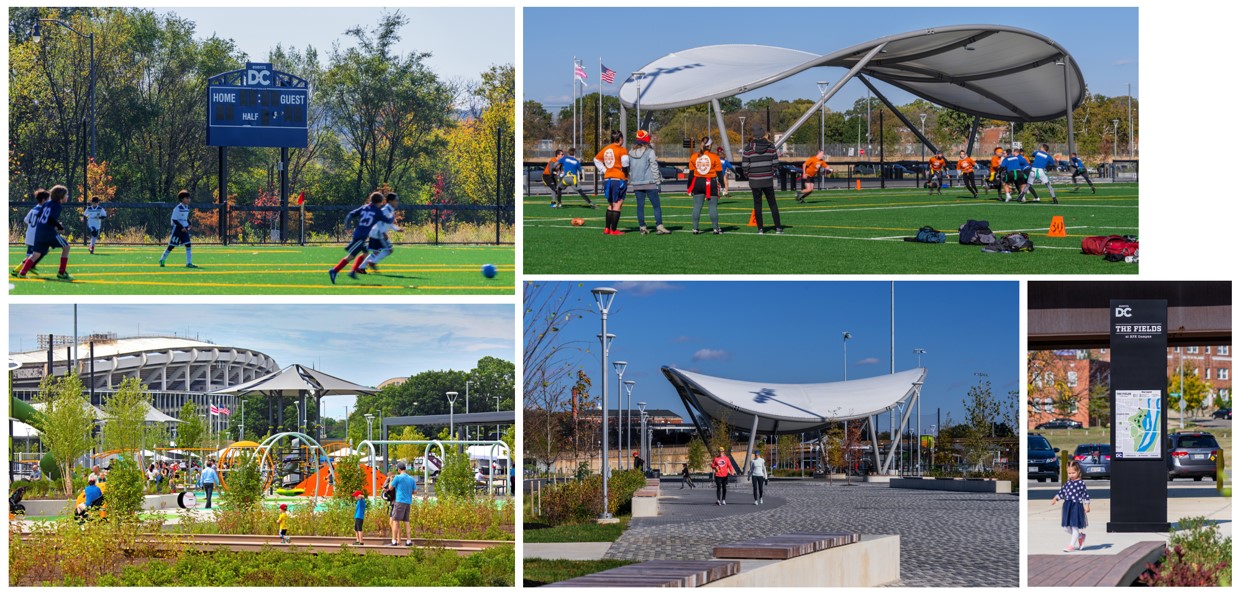 Congratulations to Hord Coplan Macht on their Merit award in the Design-Built category for The Fields at RFK Campus in Washington, DC.
The Fields at RFK, at the terminus of East Capital St., is Phase I of a master-planned redevelopment for the RFK campus. Starting with bridging documents, the Landscape Architects partnered with the Owner and Contractor to lead a multidisciplinary team through final design and construction. In phase I, RFK stadium and its parking lot are replaced with multi-sport fields, a children's play area, and a linear events plaza that provides open spaces for large gatherings.
Serving the community, this project provides multisport facilities and event spaces including fields, plaza, play area and support buildings. The project is youth oriented with flexibility to accommodate large events including festivals.
The plaza's paving, benches, and planting create a subtly meandering sinuous curve, incorporating smaller "rooms" that can be programmed as needed for events. At night, structural features are up-lit for visibility from surrounding highways and metro trains.
Landscape architects and graphic designers collaborated on the custom signage package, providing a unifying element consistent with park architecture.
Pushing through a difficult approval process, the team incorporated community input and completed the design and construction process within 12 months. The judges applauded innovative solutions that addressed the site's environmental remediation challenges while limiting the project's costs.